As a business owner, finding the right freelancers to handle small tasks can be tough, especially when you don't have a large budget. 
One popular option is Fiverr, a marketplace that allows you to outsource simple tasks for your business for as low as $5. However, while it may seem like a cheap and easy way to get things done, it might not always be the best choice for the long-term growth of your business. 
In this article, we dive into the most common reasons why business owners consider using Fiverr, the issues with outsourcing on Fiverr, and why investing in a dedicated team might be a better choice for your business.
Why You Might Consider Using Fiverr
If you're not familiar with Fiverr, it's a marketplace that allows you to outsource simple tasks for your business for as low as $5. Tasks such as making quick logo changes, creating pop-ups for your website, or cleaning up technical issues across the backend of your site can be done on Fiverr without breaking the bank.
The Issues With Outsourcing On Fiverr
Fiverr might seem like a cheap and easy way to get tasks done for your business. However, here are some reasons why it might not always be the best choice:
Issue # 1: Hiring Is Still Hiring
Whenever you need something done to your website, you have to spend time finding the right person, reading their reviews, ordering the work, and giving them enough information to ensure they can complete the task. 
This can be a headache, and you might need to manage requests and make revisions, which can take up more time. Sometimes you'll be unsatisfied and have to hire another freelancer altogether. 
For example, if you need a blog post written for your website, you might have to spend time finding a writer who can write about your topic in a way that resonates with your audience.
Issue #2: Quality Can Be an Issue
Fiverr has come a long way with the quality compared to a few years ago, and there are some very talented people offering quality work for a low price. 
Still, with Fiverr, you never really know what you're getting until you get it. It's not that big a deal to be out five dollars for something you don't love. 
But what's worse is the amount of time you've invested in the process. The time that would have been better spent elsewhere. For example, if you need a logo design for your business, you might end up with a design that doesn't match your vision or brand aesthetic.
Issue #3: Lack of Company Understanding
When you hire a freelancer through Fiverr, they'll usually have little investment in your company. After all, you're only spending five dollars, and they probably have dozens of projects to get through on any given day. 
They simply can't afford to really dive into your company. It's not their fault; it's just the built-in limitation of paying such a low price for one-off work. 
For example, You need some custom functionality added to your website. You find a freelancer on Fiverr who has experience with web development and hire them for $5. However, they may not fully understand your company's goals and values, resulting in a solution that doesn't align with your business needs. This can lead to additional time and resources spent fixing the issue or hiring a new freelancer.
Is There Any Time You Should Use Fiverr?
Even with all of the above, there are still some situations where Fiverr can be useful. For basic-level work and testing the waters, it can be a good option. However, for anything that's integral to how your business operates, it might not be the best choice.
Personally, we always think it's a better idea to have an on-demand team that knows and cares about your business. Your business is your baby, and you deserve a team that's invested in it just as much as you are.
Work that's "good enough" simply won't cut it.
At Automation Agency we view every client as a long-term partner, which means we invest in every business as if it were our own. You simply can't get this level of service anywhere else, especially not through Fiverr.
Why Automation Agency Might Be a Better Choice
If you're looking for a team to handle all your technical requests, we think you might like what we do. When you plug into our team, you immediately have a team of graphic designers, marketing specialists, website security aficionados, and much more.
Plus, there's the built-in benefit that we actually care about your company.
The old way of doing things used to mean you had to hire a developer, a website manager, a graphic designer, a roster of freelancers, and outside consultants for marketing.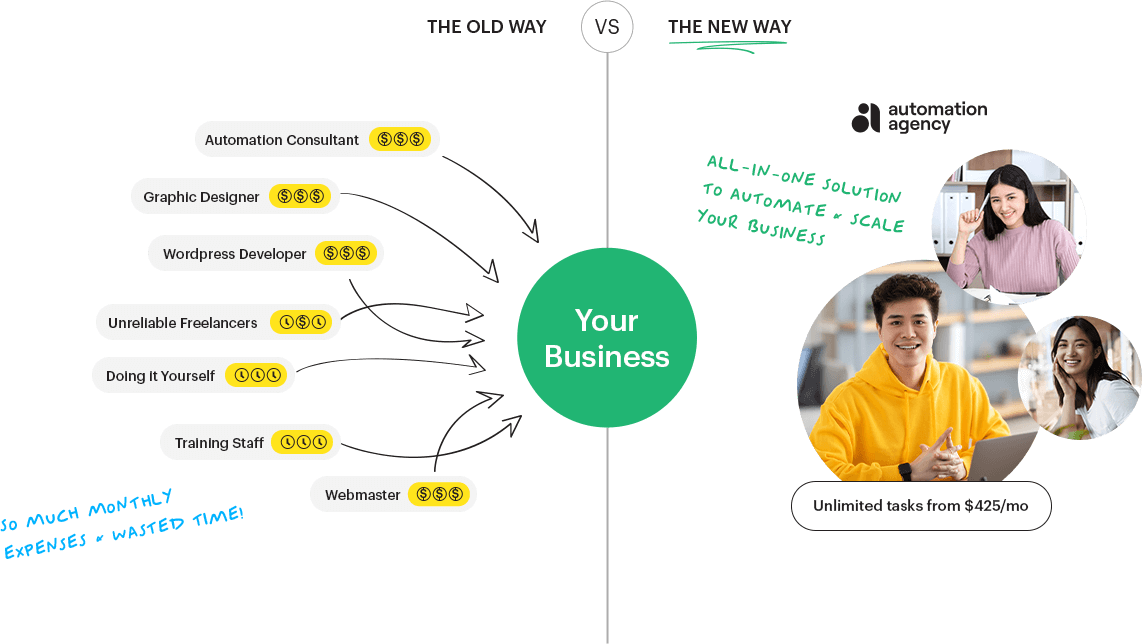 But those days are long gone… if you do it right. We combine all the above services, and much more, into a single offering. This means you don't have to go out searching for a freelancer to handle website or business issues as they arise.
We've got you covered. Get in touch with our team today.